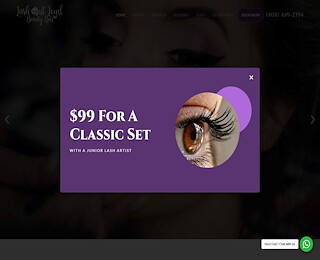 No doubt your wedding will be one of the most photographed days of your life. As such, bridal beauty should be high on your list, and the earlier you get the perfect people for the job, the less stressful it will be on your big day. At Lash Out Loud Beauty Bay, we can help you walk down the aisle radiating elegance and beauty. So, whether you want an extravagant wedding or an intimate event, you can be certain you're in capable hands with us when you enlist our unexcelled services for wedding hair and makeup in Bay Area.
Tips for the Best Wedding Day Hair and Makeup Styles
Everyone's attention will undoubtedly be on you on your special day. So here are tips to help you look your very best on your wedding day.
Get Your Inspiration from the Internet
Take advantage of the internet to find hair and makeup ideas in the Bay Area. Save the ones you like the most, but do not be carried away. You don't want to have hundreds of images of what you'd like. This will only create confusion.
The secret is to identify a common theme that represents your style best, then round up a couple of your favorite photos. Remember, the goal is to not only feel and look beautiful but also to be comfortable in your own skin. Your Bay Area wedding hair and makeup artist will appreciate you showing them what you want and can personalize the style to suit you.
This is key in picking the perfect wedding makeup and hairstyles. It will enable you to set the stage for the kind of hair and makeup to wear on your big day. For instance, if you're going to have a formal, black-tie wedding, you want your hair and makeup to reflect exactly that.
Check the Weather Forecast
The weather forecast can influence your hair and makeup for wedding Bay Area. For example, if it will be cold on your wedding day, you may want to apply products that keep your skin properly hydrated all through the day. When it comes to your hair, you can safely go for cascading curls. On the other hand, if the weather will be hot, consider an updo or any other hairstyle that can hold. That way, you won't have to worry about your curls falling out or frizzy, sticky hair on your back. For your makeup, focus on waterproof products and lighter makeup.
Consider What You'll Be Wearing
Your wedding outfit can determine your wedding day hair and makeup. Therefore, take a picture of your attire and show it to your wedding makeup artist in the Bay Area. This will give them a good idea of how your dress looks like and the hair and makeup that will complement it.
We'll Bring Your Vision to Life
Having worked with many brides, our experienced, highly skilled, and handpicked wedding hair and makeup artists have earned an unwavering reputation as the go-to experts for wedding hair and makeup in Bay Area. At Lash Out Loud Beauty Bay, we cater to every aesthetic, number, budget, personality, and need. Schedule your first appointment today and experience beauty done right. Contact us: https://lashoutloudbeautybar.com/get-in-touch/.