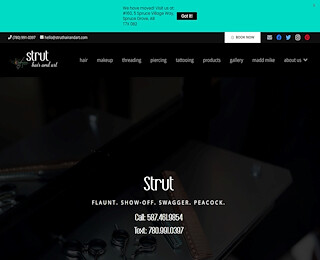 As an environmentally and eco friendly studio, Strut Hair and Art brings focus to the products and practices that are in alignment with our values and beliefs that the choices that we make can have great to our earth and, therefore, we are conscious about these choices.  We are committed to using organic and vegan products that are cruelty free and do not contain harsh ingredients.  Among the many natural services that we provide in Spruce Grove, brow threading is one of them and is one way that we can help you achieve the look that you want in a natural way.
 
Eye brow threading is an ancient technique for shaping the brows or removing unwanted facial hair that originated in India and is widely used in the Middle East.  Its popularity in North America has grown over the past few decades.  Strut Hair and Art offers Spruce Grove brow threading as an alternative to other forms of eye brow shaping such as plucking or waxing.
 
Threading is done by doubling then twisting a piece of cotton thread then rolling over the area where the unwanted hair is in a twisting motion.  The tread traps the hair and lifts it out of the follicle.  Some of the benefits of threading are: 
This allows for very precise and defined shaping, only lifting out the hairs that need to be removed.
It is a sanitary practice.  Only thread touches the skin, which is discarded after use.
No chemicals are used so the skin will not be harmed.  Again, just the thread.
It is a fast process, sweeping the thread over areas to remove lines of hair.
It is long lasting because the hairs are removed from the follicles.
Discomfort is minimal.  It feels similar to tweezing but goes much quicker.
 The key to a positive Spruce Grove brow threading experience is finding a studio and an aesthetician who is properly trained and skilled in threading.  At Strut Hair and Art, our team of professional artists have mastered this technique and will comfortably shape your brows and remove unwanted facial hair at the most reasonable prices around.
 
Along with threading, Strut Hair and Art is a Spruce Grow brow threading studio that provides much more.  Our services include:
Cutting edge hair styles for women, men and children
Both full and highlight hair coloring using organic, vegan, eco friendly products
Hair straightening, hair and scalp conditioning, shampoo and conditioning products that are environmentally conscious
Hair extensions
Eye lash application
Make up services using only natural mineral make up      
When researching Spruce Grove brow threading studios near Edmonton, you will find that Strut Hair and Art's team of professional stylists offer threading as a cost effective way to shape eye brows and remove unwanted hair gently and without using harmful chemicals.  Contact us today at 780-991-0397 to schedule your threading appointment.